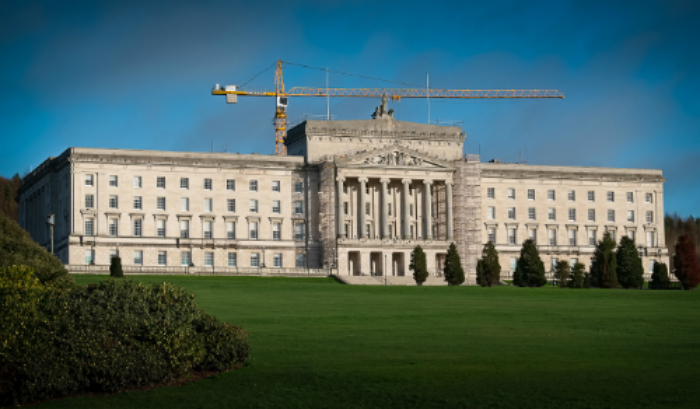 The Problem
Parliament Buildings, Stormont was designed by architect Sir Arnold Thornley and completed in 1932. The structure comprises six floors, two of which are below ground level, and it is constructed of Portland stone. McFarland Associates Ltd were asked to provide an inspection and a series of non-destructive tests to the reinforced concrete multi-levels of the roof of the structure which was the subject of a refurbishment contract. On site testing revealed active reinforcement corrosion occurring within the slabs below the pediment roof structure. This was caused by a combination of concrete carbonation as well as a leaking waterproof membrane over. Widespread low concrete cover to reinforcement was also evident within this element. Numerous instances of concrete cracking was also observed on the main roofs of the building.
The Solution
McFarland Associates Ltd undertook a concrete repair Specification and Bill of Quantities to enable the repair and long-term protection of the pediment roof slabs following on site testing. A Cathodic Protection system (CP) was designed and installed within the pediment roof to protect the structure from on-going reinforcement corrosion. When the CP system was in place, a re-profiling mortar and anti-carbonation coat was also installed to increase the protection to the cover concrete in this area. Concrete cracks were also resin injected elsewhere on the structure.
The Result
The inspection and testing revealed that the reinforced concrete roofs, for the most part, were in a reasonable/good condition with only localised areas of active reinforcement corrosion occurring below the pediment roof structure. A targeted and cost effective intervention was employed at localised areas to install corrosion control where corrosion was evident. Our inspection, testing and remedial works provided the Client with the assurances that the concrete roofs were in a suitable condition prior to the application of a roofing membrane over Parliament Buildings, Stormont.
---